The Light Cone x Karl Taylor. Make hard-to-shoot products look professional!
The challenges of shooting shiny or glossy products.
The problem you'll experience when trying to photograph shiny or glossy products is that they reflect absolutely everything around them.
Trying to capture these types of objects and make them look good has always required lots of time and professional knowledge, not to mention expensive lighting equipment, until now!
An example of difficult to shoot products. These shiny, glossy products reflect absolutely everything!
Introducing the Karl Taylor Light Cone for product photography.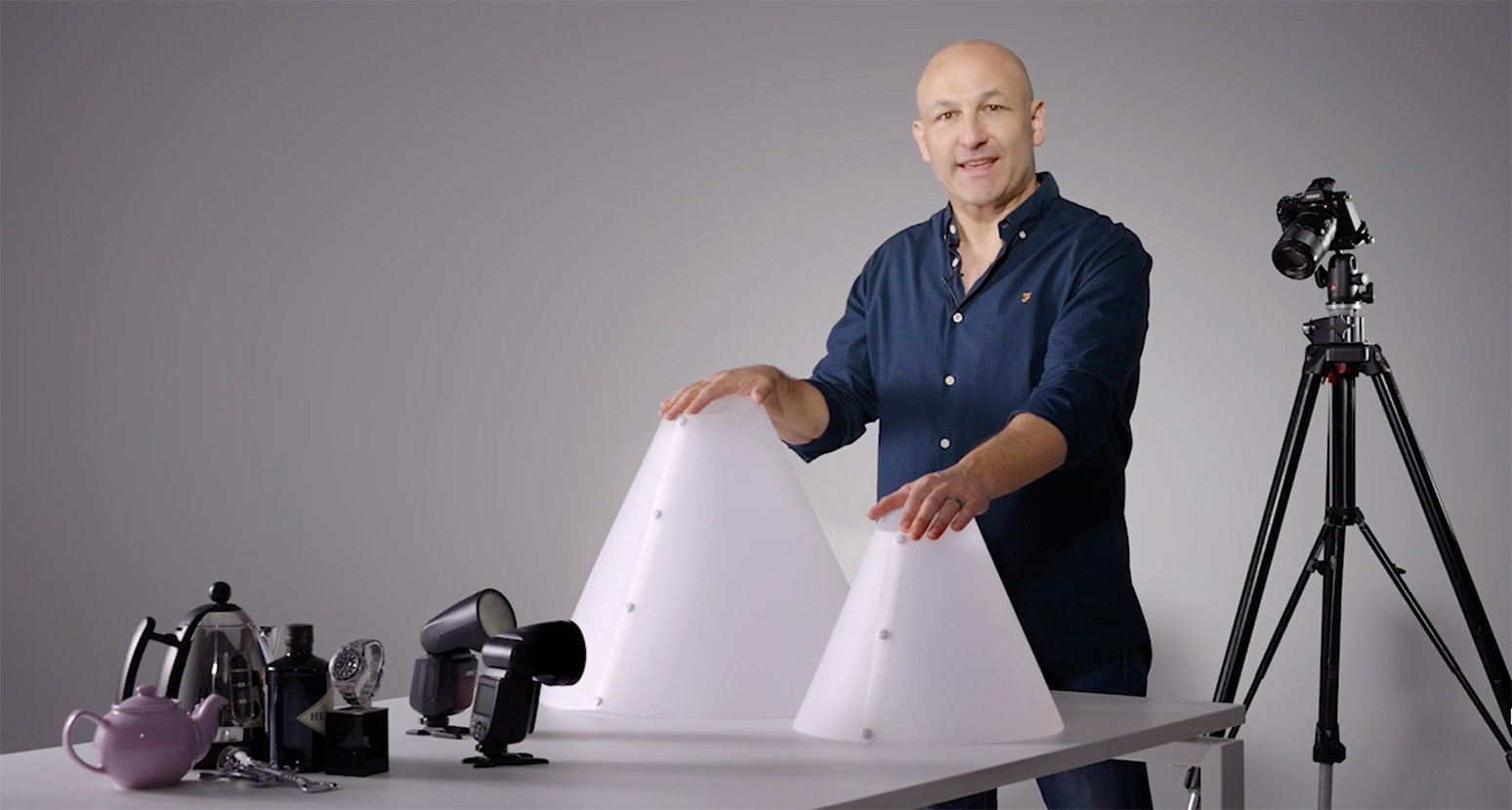 Light Cone has been developed by professional product photographer, Karl Taylor
The Karl Taylor Light Cone is a game-changing new lighting modifier designed to make life easier for anyone (photographers or non-photographers) who want to shoot glossy or highly reflective products like jewellery, watches, electronics, glossy plastics, cosmetics or packaging. In fact any shiny or semi object will look amazing using the Light Cone.
BEFORE and AFTER Light Cone example images
BEFORE and AFTER Light Cone example images
What is a Light Cone? Put simply, a Light Cone is a piece of lighting equipment that can be used to ensure smooth, reflection-free lighting for whatever you are taking pictures of. Think of it as a light box that can be used, moved, reset, reused, all with the minimum of fuss and the maximum impact but creating perfect gradients.
What is a Light Cone? 3 Different Sizes
Achieve beautiful gradient lighting effects on hard-to-shoot reflective surfaces
The Light Cone provides the perfect diffusion from any light source. Alternatives may look similar but are unlikely to produce the intended diffusion and may still leave you with annoying shadows and reflections on your product photography.
The Light Cone works like a studio light box, diffusing and scattering all available light so that it illuminates your product or subject from all angles at once, and therefore avoids picking up any distracting reflections.
However, the Light Cone produces more professional results. It's also far more versatile, portable and convenient.
Makeup Product Photo with harsh reflections
Flawless graduated light using the Light Cone
No more harsh reflections. Snap difficult-to-photo objects with ease.
The Light Cone diffuses the light – whether that is from one source or multiple – and produces a softer, more even illumination of the subject being photographed but with perfect professional gradients giving you exceptional images every time. Results that look like professional product photography.
Harsh reflections on gold metallic product
Beautiful graduated light on gold metallic product photo
Transformational results WITHOUT complex lighting setups!
The Light Cone was designed for easy use with any lighting from studio lights to speed lights but works perfectly well under natural light or even a desk lamp. It will diffuse the light, illuminating your product or subject with a clean, reflection free look and perfect gradients everytime.
Images of hairdryer BEFORE and AFTER using Light Cone
The simplest ideas often have the greatest impact, and we're sure this Karl Taylor Light Cone will take your product photography to a higher level.
Whether you are a commercial product photographer, a keen amateur aiming to improve your skillset, or an everyday camera-phone user looking to showcase items for your blog, Insta or online selling, the Light Cone is perfect for you.
It can help you avoid distracting reflections, illuminate your product perfectly, and achieve the best possible results.
Light Cone product development
Durable, quick and ready to use in seconds
Unique optical density properties for flawless gradients
The Karl Taylor Light Cone was developed in conjunction with renowned photographic experts V-Flat World.
It went through many iterations of prototypes over the course of a two-year development process.
Easy snap together and start using immediately
Light Cone is made from fire resistant materials
Great care was taken in sourcing and manufacturing the material the Light Cone is made of, so it is extremely lightweight yet strong, durable and heat resistant, as well as having the perfect optical density diffusion so light it perfectly diffused all over the subject within it.
The Light Cone can be used with speedlights, desk lamps, studio lights or even daylight coming through a window. It can also be used with any camera even a smart phone.
What lights can be used with a Light Cone?
Lighting options when using Light Cones - Natural light, Speedlites, Home lamps, Studio flash
You can illuminate the Light Cone with a wide range of different light sources, including:
Natural light
Speedlights
Studio flash/strobe lights
LED lights
Desk lamps
The Light Cone is heat-resistant, so short to medium exposure to hot studio lights will not affect performance or risk damage to the Light Cone or your product.
The Karl Taylor Light Cone was designed for easy use in a studio setting but works perfectly well at home or in your offices using other forms of light including desk lamps or natural light. It will diffuse the light, illuminating your product or subject with a cleaner, reflection-free look with improved shadows and perfect gradients.
Using Light Cone with desk lamps and iPhone
Using the Light Cone with Speedlites
Setting up and using a Light Cone
It's simple! The Light Cone is designed to be set up in seconds. It's designed for easy use by all levels of photographer – from seasoned professionals to everyday amateur camera users.
Place the product inside the Light Cone
Light the cone from the outside
Point your camera into the cone from the top
Take a perfect photo!
The result? Beautifully lit product shots with smooth gradations and no unsightly reflections.
Pure white backgrounds tutorial
Achieve perfect, no-cutout white backgrounds AND beautifully diffused gradient lighting on even the most glossy and hard-to-shoot products. How? By using my new Light Cone and applying the simple techniques I demonstrate in this video.
Gradient lighting tutorial
Glossy products are notoriously difficult to photograph well. To make them look luxurious and desirable, you need to achieve a gradient lighting effect. But how?
In this replay of a LIVE Light Cone demonstration and Q&A session, I show the amazing results that you can achieve easily and quickly with the Light Cone.
I also show you some extra product photography tips and various types of lighting you can use for great results!
How to use the Light Cone
This great collection of videos at V-Flat World demonstrate how to use and get the best from your Light Cone. There are also videos showing how to create no cut-out white backgrounds as well as using different backgrounds and shooting different types of products. You can watch those videos here.
Where to buy the Light Cone
Purchase from vflatworld.com
Purchase from bhphotovideo.com
Purchase from lightingtools.co.uk